By Lisa Cherry
For many years adding babies to our family were considered regularly scheduled "holidays." With 10 children's births, our older kids had a chance to establish "having new baby routines" much like one would establish "going back to school routines."
We might have been the only family on the block who had recycled decorating supplies in the storage closet that said It's a Boy! or It's a Girl!  In fact, I remember when one of the children asked if we could have a new baby so that Gram could stay with us and take them to Steak and Shake to celebrate! (Now there's a good reason to add another family member.)
Honestly, the kids and I miss those days. Josiah's babyhood is gone and my maternity clothes are too. But no one can get too sad because we have more baby toys around our house than ever. With four grandbabies arriving in three years we are not losing practice yet.
When precious little Benjamin Judah, the son of Nathan and Tara, made his appearance a couple of weeks ago, our family made quite an entry to the maternity ward. I was a little nervous that the nurses might draw the line on our family welcoming event.
But once again, we celebrated with tears of joy that miracle from God. In mass.  All together with everyone begging for their turn for a holding. Ahhh, God is so good to us!
(But, I could not find any of those stored It's a Boy! signs. Good thing Wal-Mart could help me restock.)
Linking up to the Better Mom  and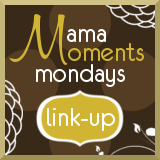 QR Code - Take this post Mobile!
Use this unique QR (Quick Response) code with your smart device. The code will save the url of this webpage to the device for mobile sharing and storage.